OBJECTIVES
Establish and maintain a permanent community cultural center to foster, preserve, and enrich all ethnic Indian aspects, but not limited to religious, cultural, educational, social and recreational needs of the Indian community.
Provide 

platform

 

to

 the young generation and walk with them during their journey of being a well-respected, well educated, healthy and wealthy citizen of this great nation Canada.
Empower women, kids and elders so they can bring peace and prosperity to the society
Celebrate prominent Indian festivals and promote multiculturalism
Establish a place of worship for the people following Hinduism as well as other religions of Indian origins
Interact with other religious and multi-faith organizations to understand each other and have harmonious living.
Conduct classes that 

enhances

 the spiritual teachings, yoga, dance, music, art and languages
Undertake spiritual, charitable, humanitarian and other welfare activities for the Society at large, newcomers to Canada and other community.
Partner with local community organizations and organize/run cultural events which will help 

bringing

 different communities together and enrich the community living.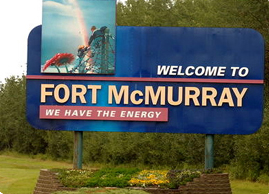 Sanatan Mandir Cultural Society is serving the community of Fort McMurray in northern Alberta, Canada.
This is the largest south Asian Organization in town, farthest from their motherland, just near to the North Pole! Here, the Mother Nature unfolds her scintillating light show (Aurora Borealis) during winter, when the mercury dips down to minus 45 degrees. It was the lifelong ambition of over 900 Sanatani families to build a Mandir and cultural center, for the last four decades. Their dream became true as of May 2021, Hindu Shakti Mandir is now Open.
Sanatan Mandir Cultural Society encourages you to explore Sanatan Dharma through an understanding of the basic tenets and key scriptures.
SMCS welcomes each and every one who likes to be a part of this unique social and cultural group.
The Society is a registered charity with the province of Alberta. The Federal recognition came through the 'Revenue Canada' on November 3rd 2010. All donations to the Mandir are fully tax exempt.
Our Revenue Canada Registration # 850716606RR0001. Click here for more details.
The Executive Committee humbly requests all philantropist to donate liberally for materialising the 'Northpole Mandir' dream !